Recently, we have shared a lot of bright-color manicures with you. For example, some shiny shining manicures and red manicures that girls like very much. Doing these dazzling manicures will indeed make your fingertips more eye-catching. However, there are also many girls who would like to try some other colors. That is to make the manicure return to the charm of the manicure itself. So the blue manicure we are going to share with you today will be a very good choice!
The blue nails of cure series is still popular among people. Although blue nails are not as bright and festive as red nails, they also have unique charm. Blue nails are the symbol of eternity, which often remind people of the ocean, the sky, the water and the universe. Pure blue nails show a kind of beauty, calmness, reason. Alos, serenity and broadness to people, bringing infinite reverie. Blue nails give people a feeling of tranquility and peace. And it can always smooth the impetuous in the heart. These blue nails can cure all holiday syndrome.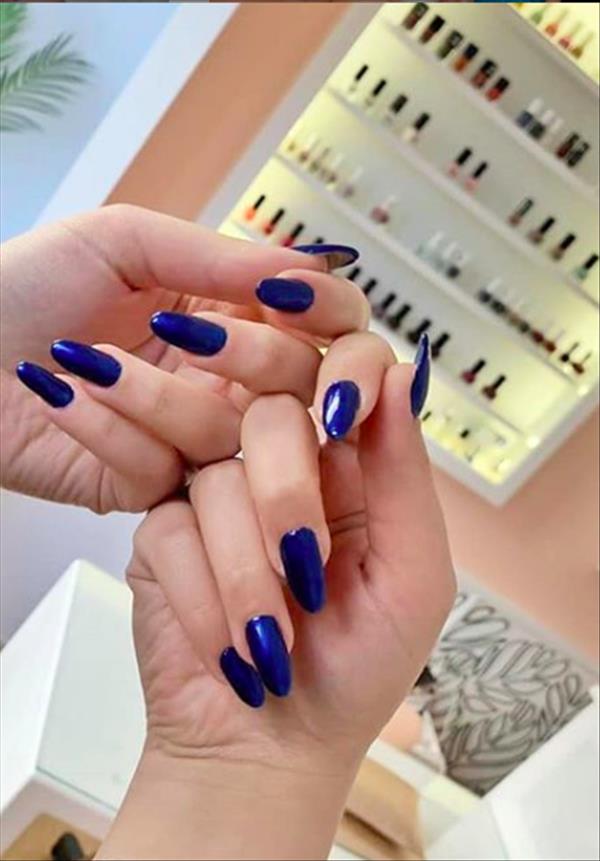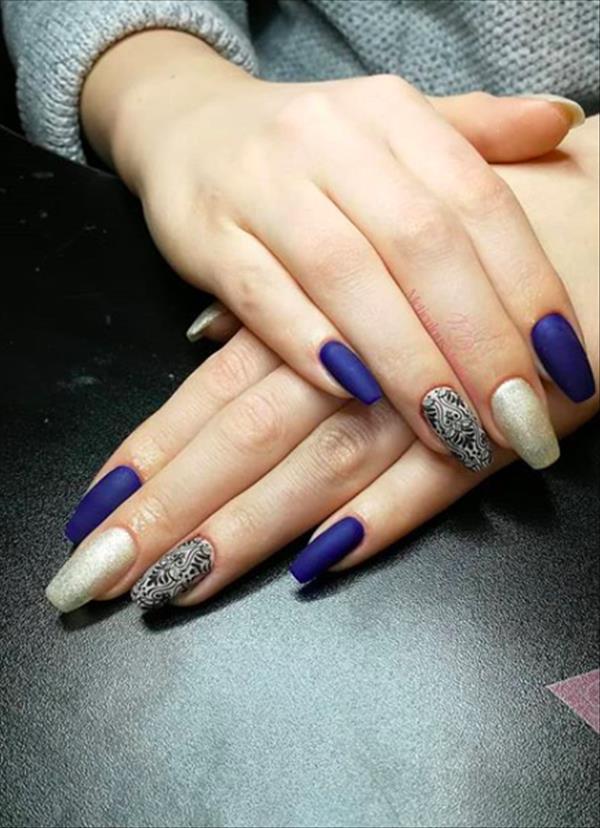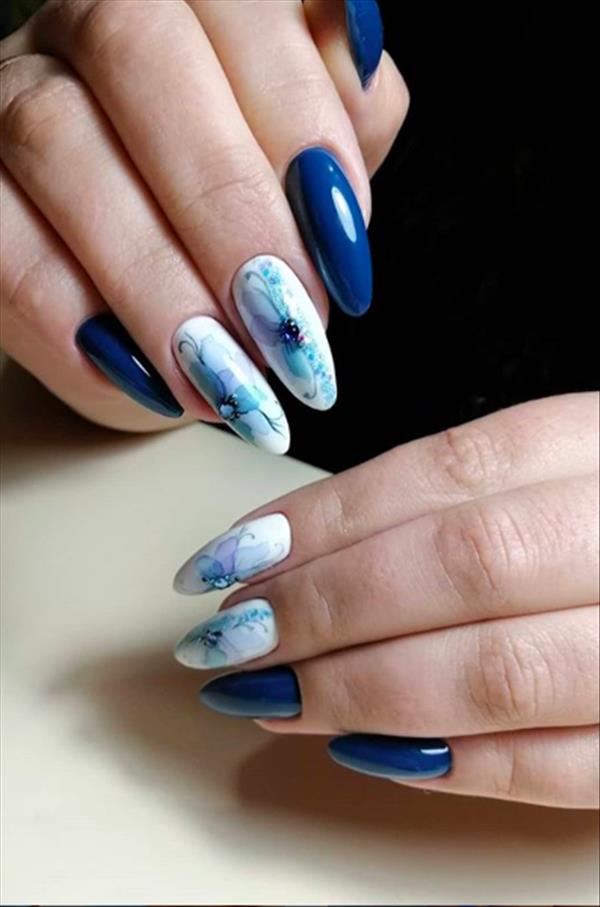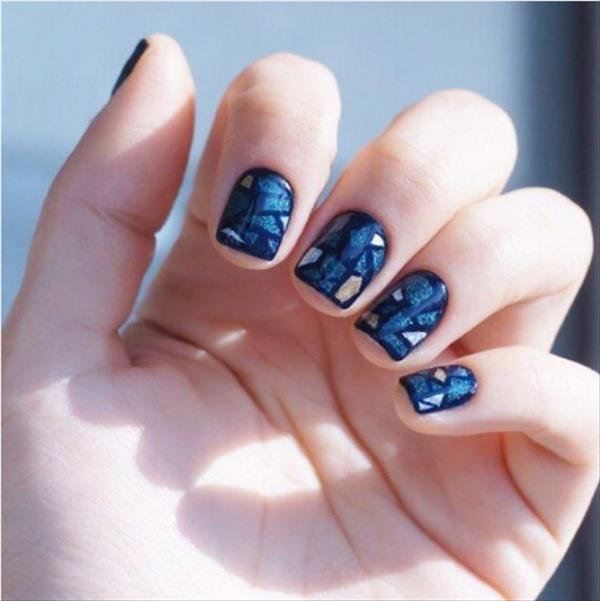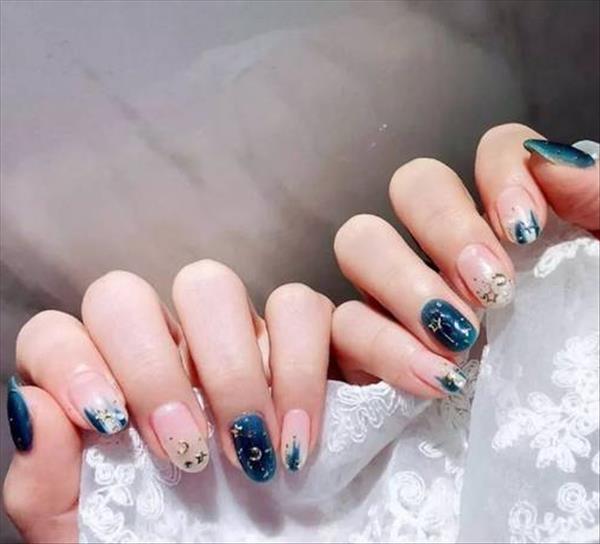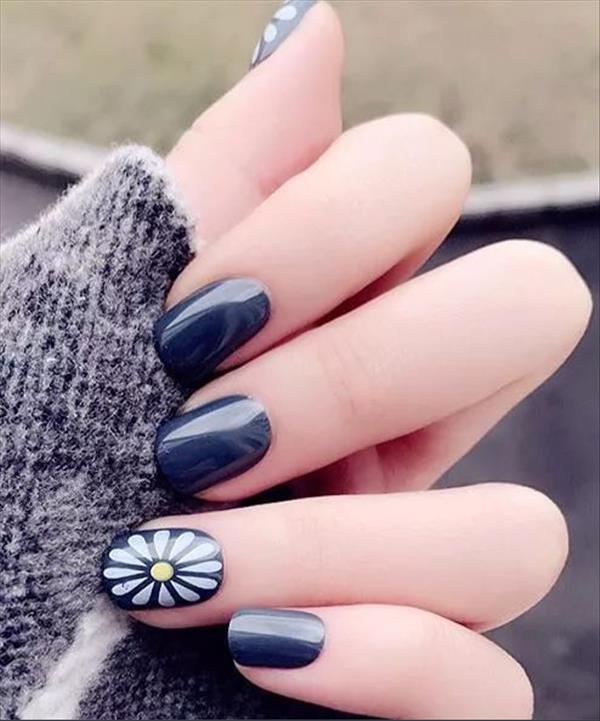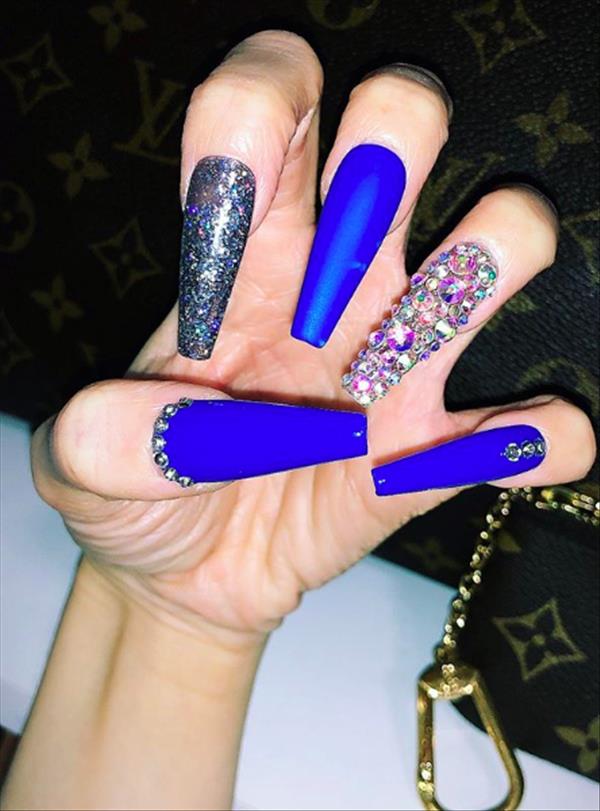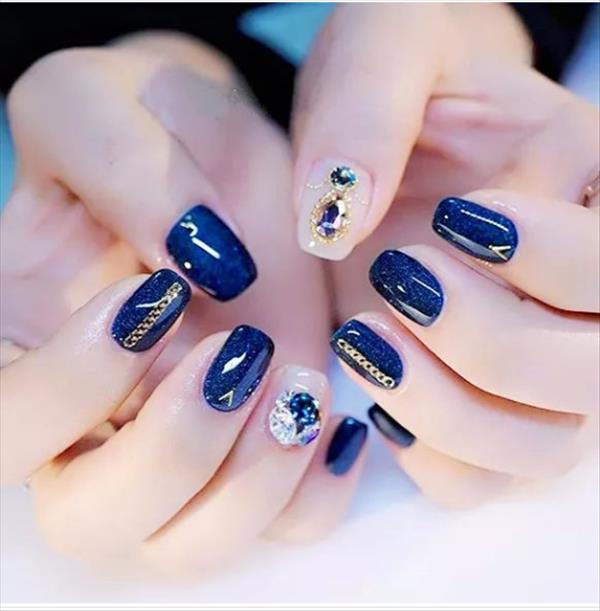 Grey Blue Nails
First of all, what we see is this kind of blue nails with gray tone. Sometimes I really can't distinguish between blue and gray. The pictures below are the very popular haze blue nails, like covering the blue with a layer of gray haze. Haze blue nails also have different color marks, some of which are blue, and some are more gray. But everything will never change, and the most important thing is blue. Haze blue nails look low-key. And have a retro temperament, which makes blue look more stylish. Even if it made into pure color nails, it will not look boring and has a very elegant temperament.
And this kind of bright sapphire nails has a more outstanding visual effect. Because it can make people notice the color of fingertips at a glance. This kind of blue made into pure color nails will have a very fashionable temperament. Match with dizzy nails of the same color first. Then it increases the sense of color layers and reduces the seriousness of dark color. That shows more charm and vitality. Many girls like blue dyed nails very much. One reason is that blue has a very gentle temperament when it fainted nails. The other reason is that blue is a very healing color. Especially during the transition and change of color. You can see it will produce a fantastic texture. Besides, it makes people feel comfortable, so many girls are attracted by the power of healing.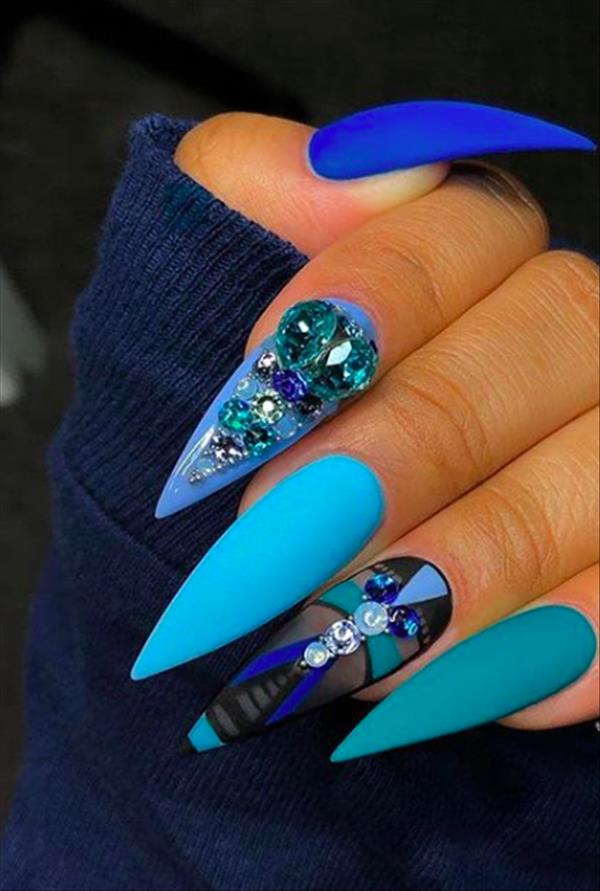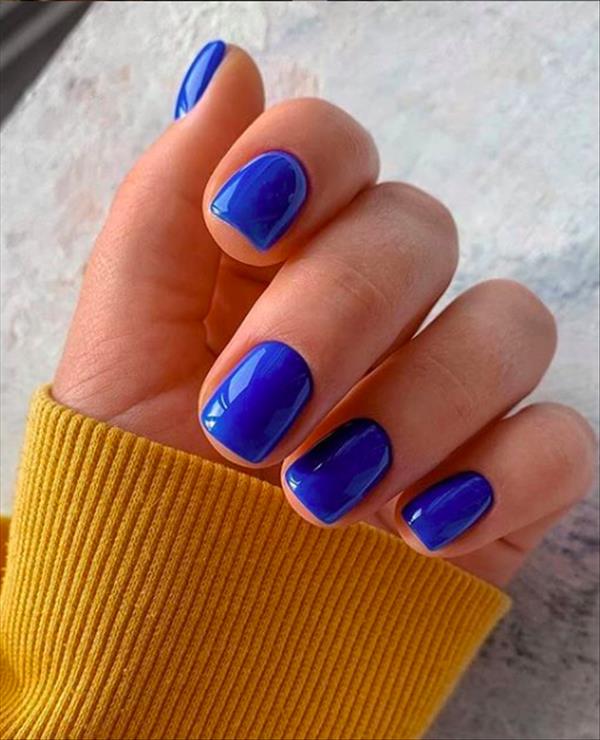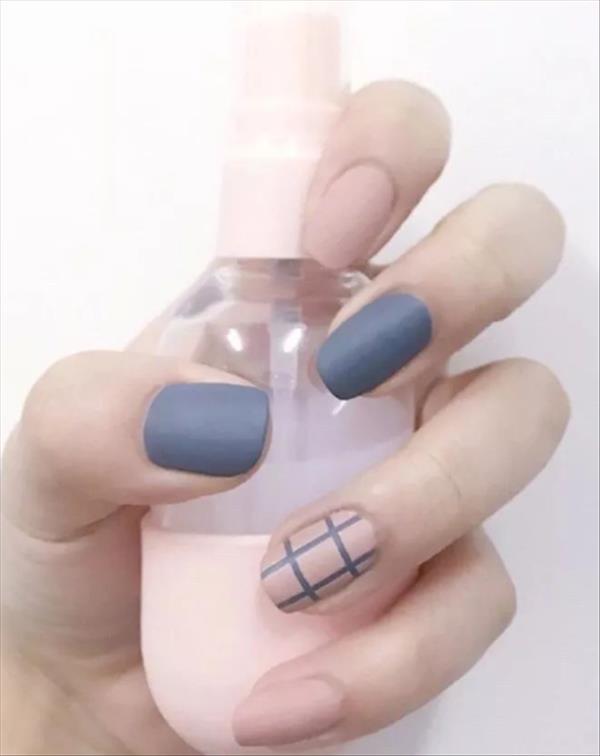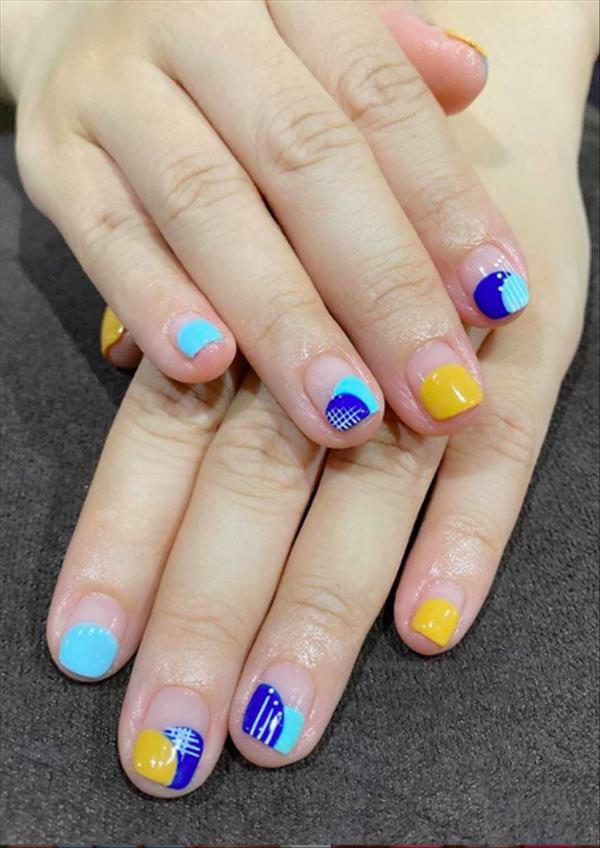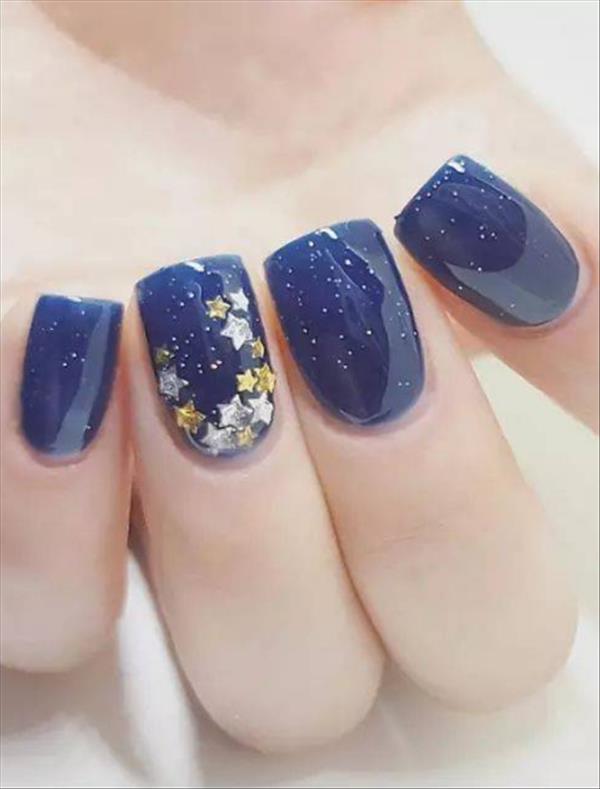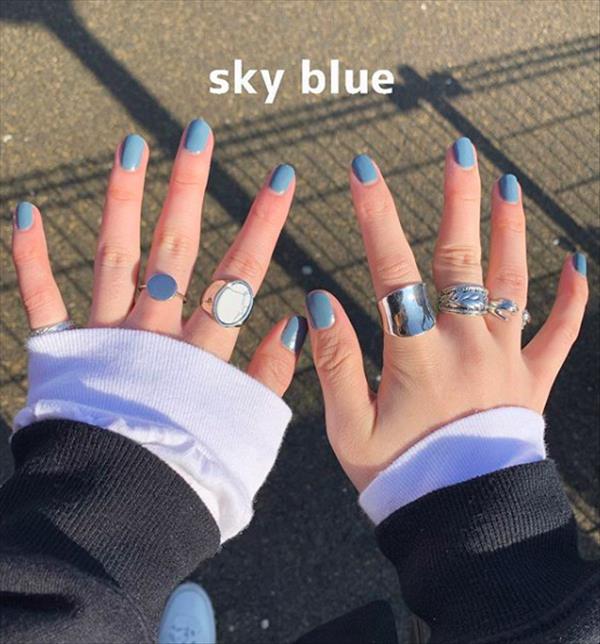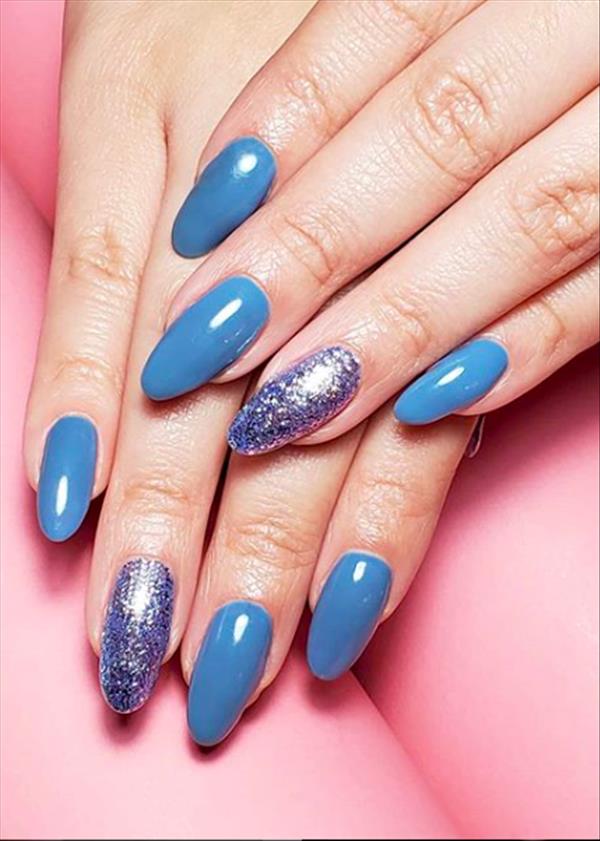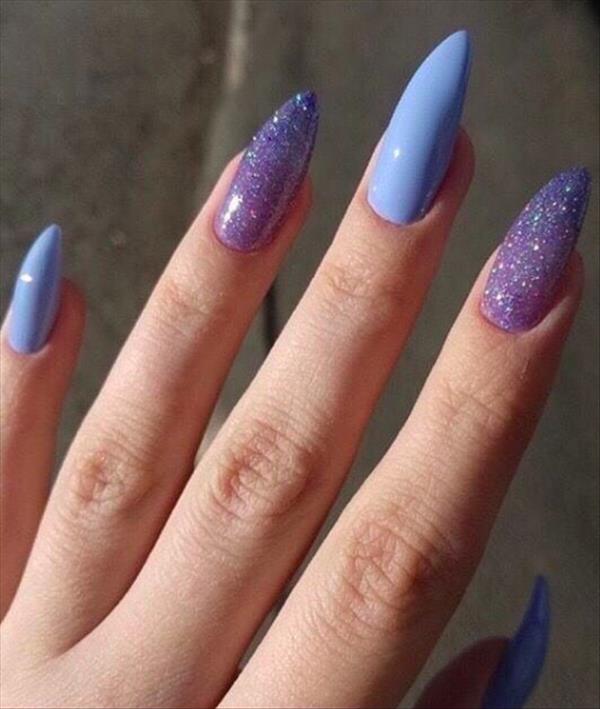 Light Blue Nails
It's already spring now, and the temperature will gradually turn warm. With a pair of gentle and fantastic blue nails, I feel as if I have smelt the smell of the sea, which is very pleasant! Blue nails also have a really good effect on modifying a dark color itself, no matter long nails or short nails, blue nails are very beautiful. And because Blue itself is a color of cold tone, when passing through the light, the contrast between light and shade will be more obvious, so it will make the nails look longer and longer. For girls with short round nails, blue is also a good choice.
Dyed nails made of blue have a very charming dreamlike temperament. Especially the light blue below, in the process of fainting, the natural texture which changes from deep to light will look particularly gentle, and it will also make your whole nails full of poetic feeling. In addition, this blue nail is as popular as the red dyed nails, which is a color with high order rate in the dyed armor. Blue dyed nails have been very cured. Especially these relatively elegant blue colors, matched with some luminous elements, are delicate and not look fancy. Although they are cold colors, they are full of girls' hearts like pink.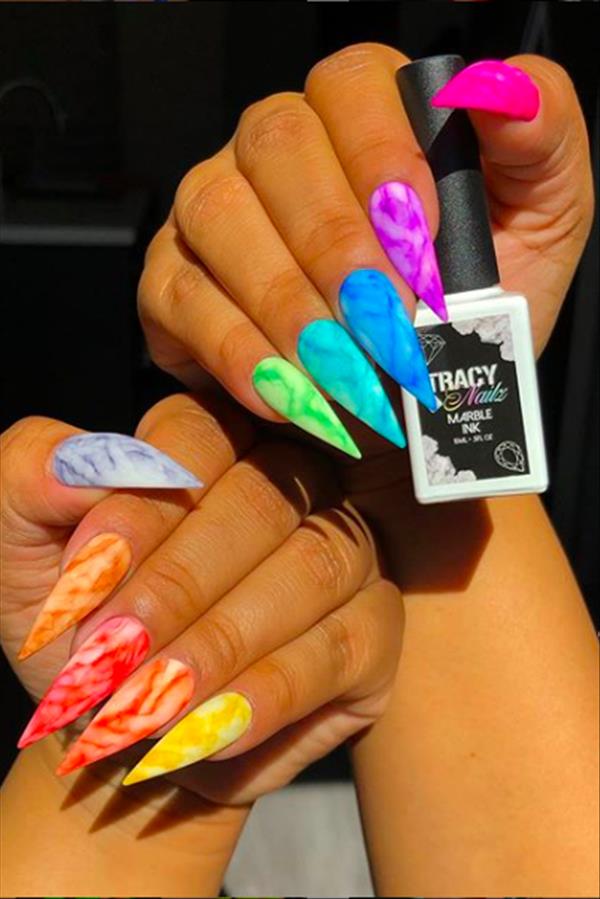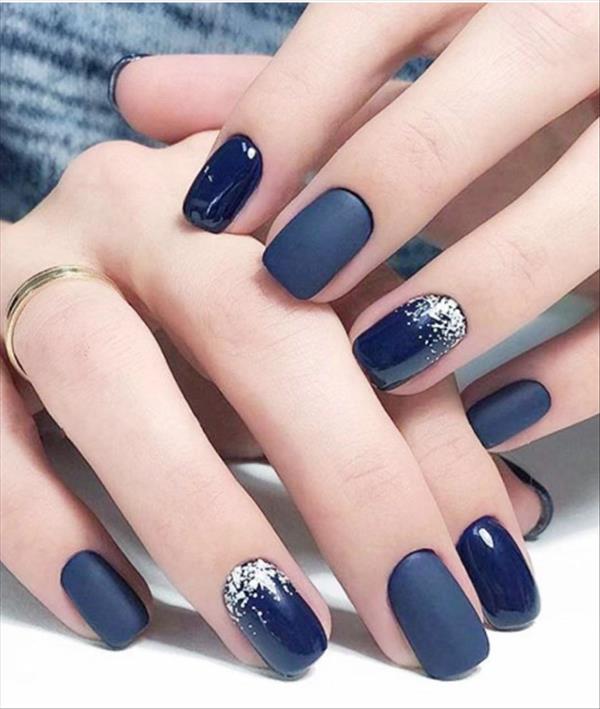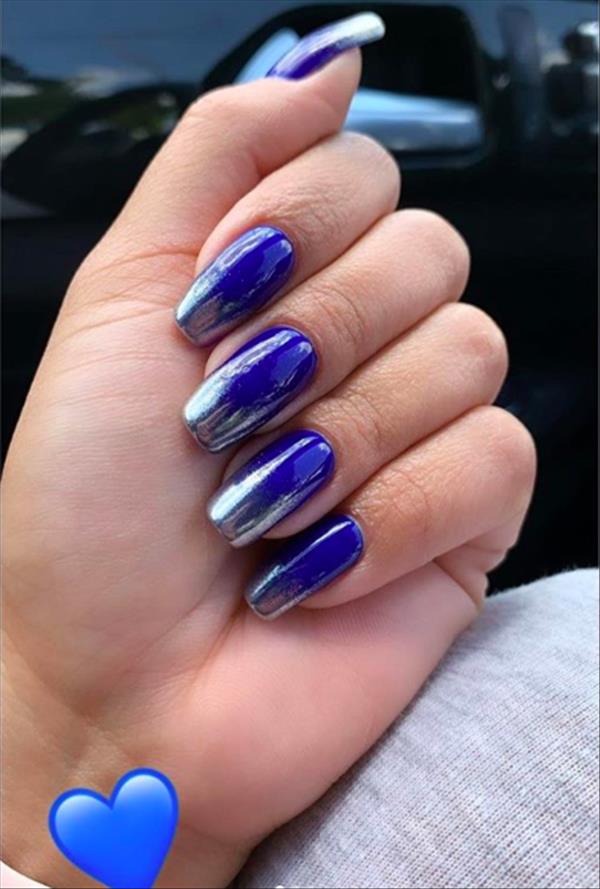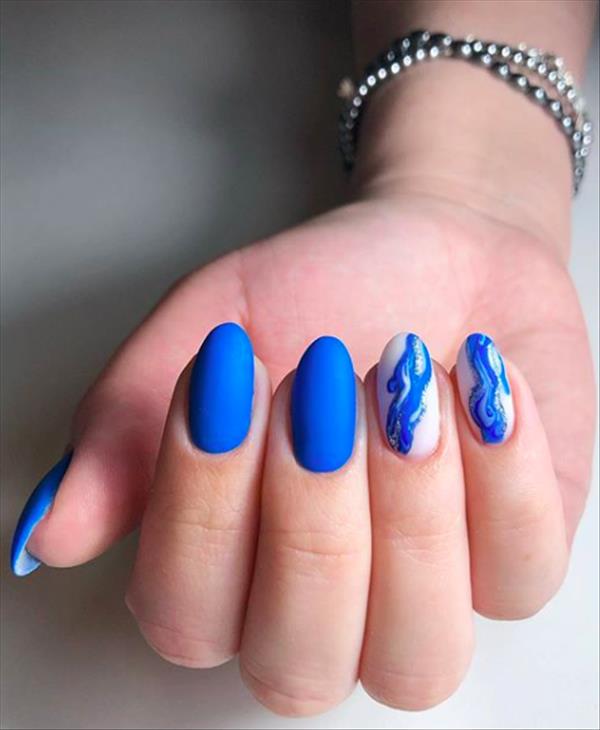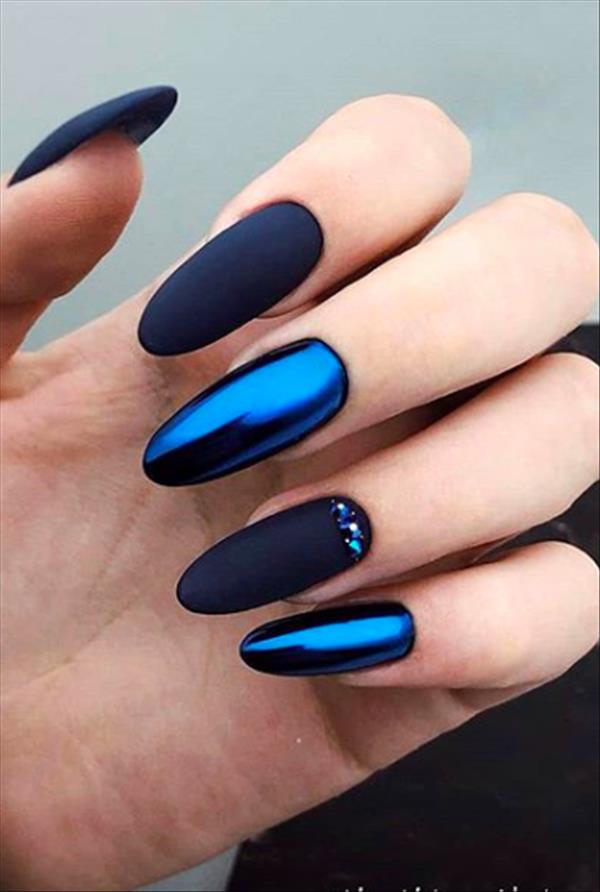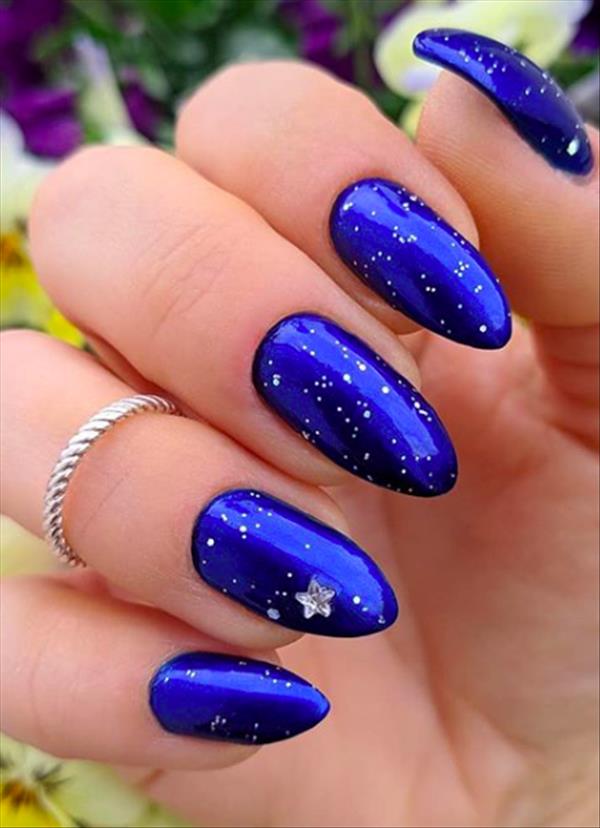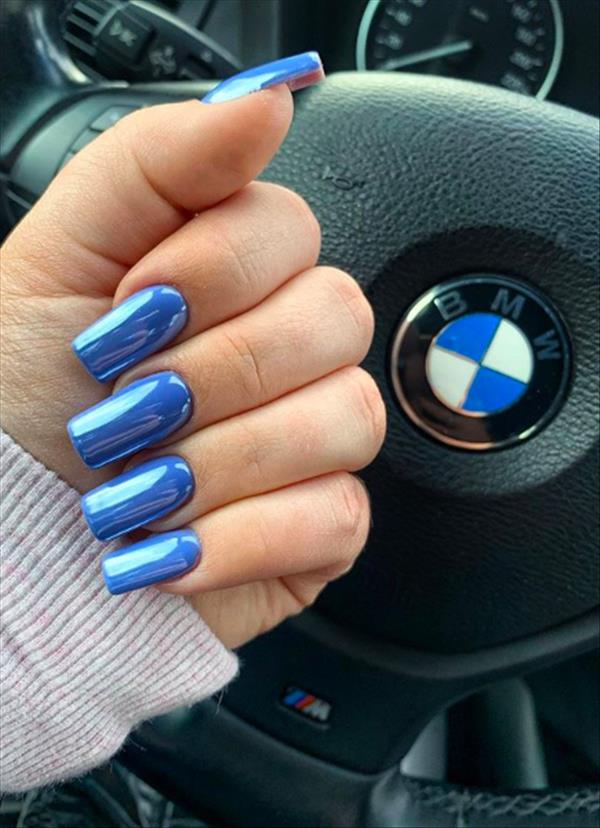 Deep Blue Nails
In fact, every girl has a relatively fixed color preference, which is well reflected when doing manicure. Although we will choose different styles, the colors are almost similar, so the effect is relatively similar. Because when we observe other people's manicure, the first thing we see is color.
But blue nails are different, because its outstanding all-match effect can make the fingertips have more changes. Both styles and colors are highly inclusive. The combination of blue and some sequins nails can increase the glossiness of fingertips. Matching the stitching model will have a very fashionable temperament. Some deep red manicures will make you more gorgeous when you use them, but blue nails won't. Deep blue nails, the effect of getting started is also very temperament, will not seem exaggerated. And Blue is also a very all-match color, you can use blue to make many different styles of blue nails. Using blue to match with other colors is not easy to make mistakes, so Blue is also a common manicure color at ordinary times.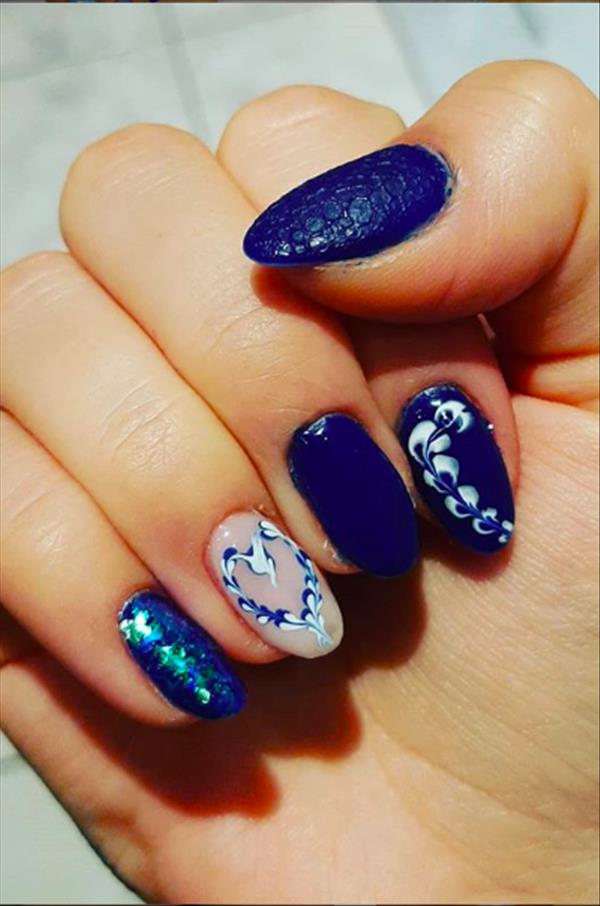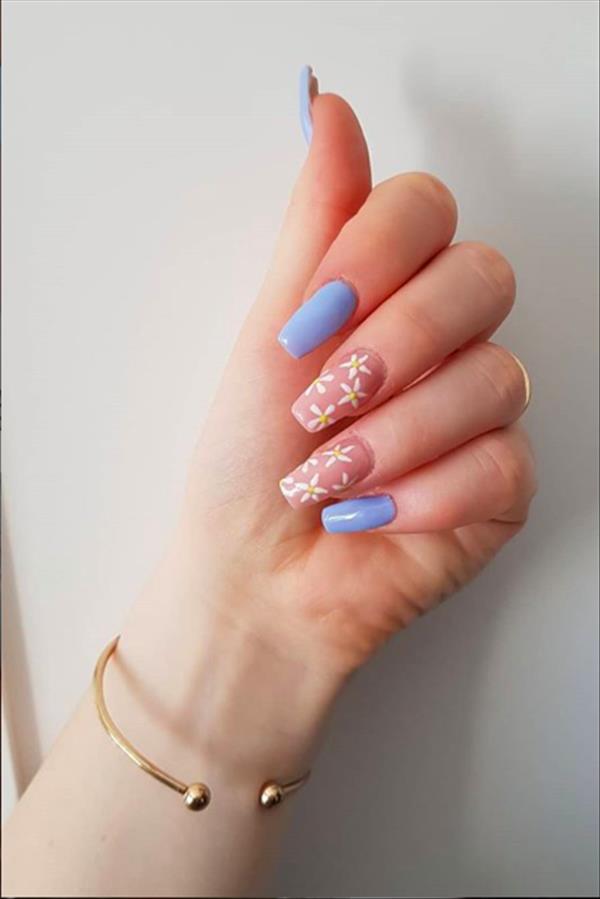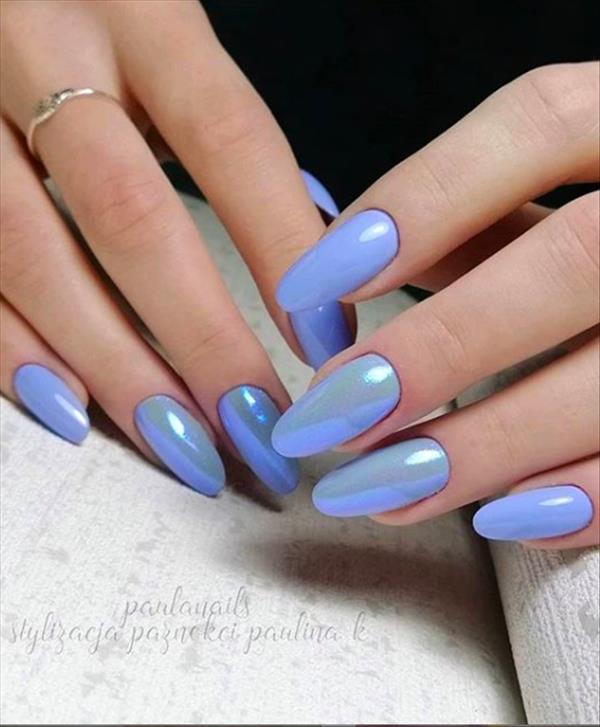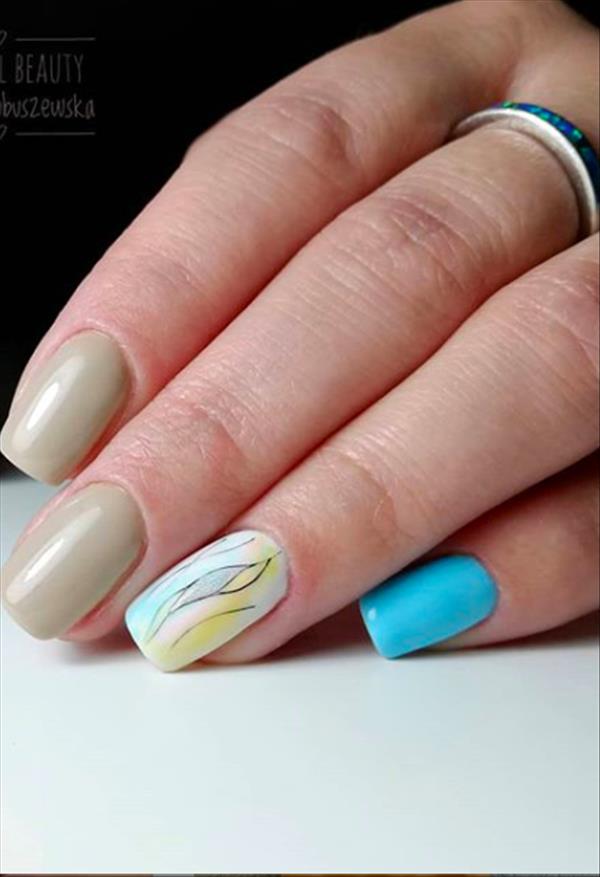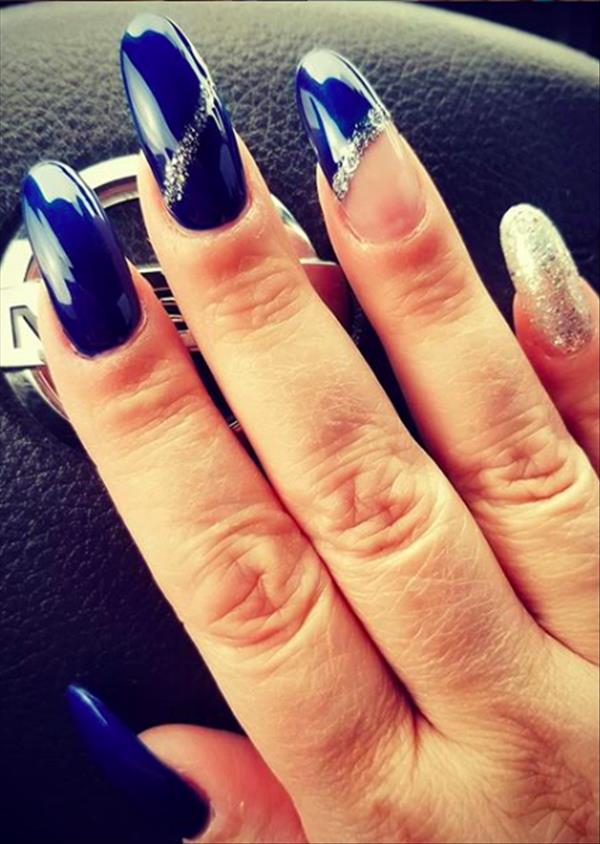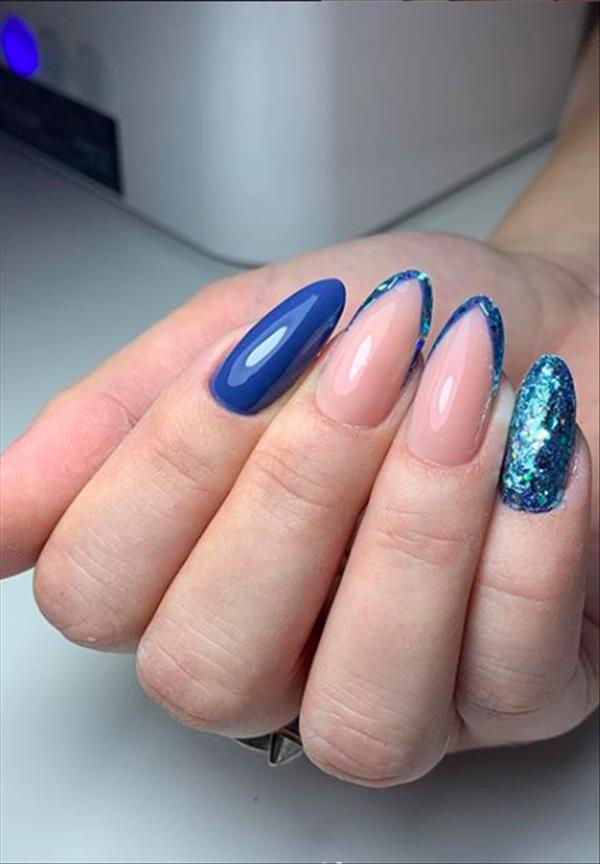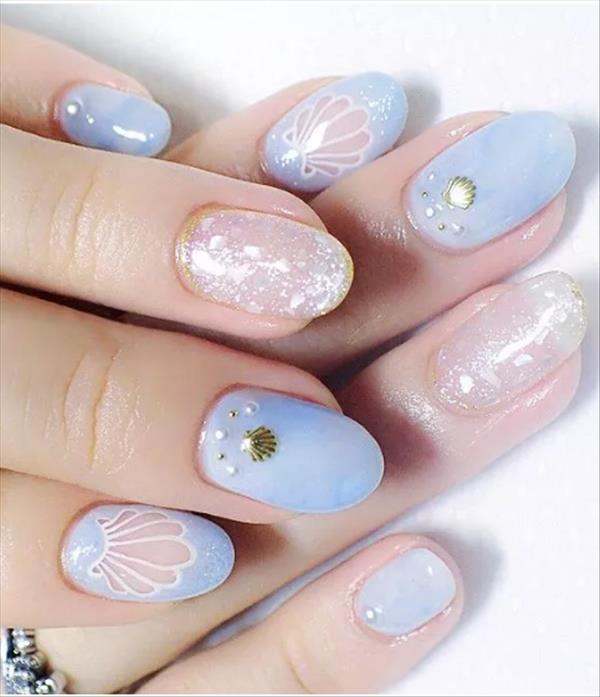 Pure Blue Nails
Another advantage of blue nails is that even very simple styles can also have the temperament of high fashion. It looks simple and clean with the combination of blue pure-colored nails and light-colored nails and simple decorations. With the blue temperament of healing system, it looks very different, but it is inexplicably liked by people.
Blue Cat's Eye nails are also very popular among girls. Blue nails themselves have a kind of mysterious temperament, and with the symbolic luminous belt of Cat's Eye armor, they will have a very delicate effect, making fingertips have a different sense of fashion. Adding some geometric lines to the blue nails not only increases the sense of delicacy, but also makes the fingertips more fashionable. With blue pure color nails, this kind of simple temperament is really persuasive.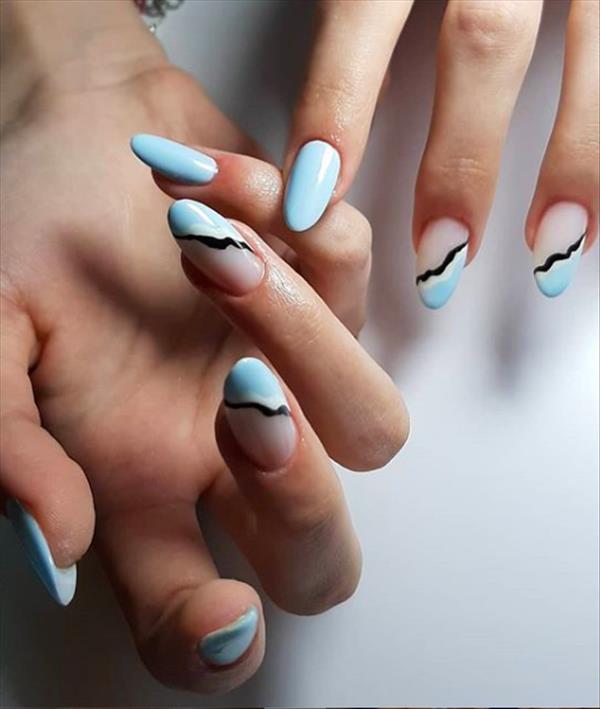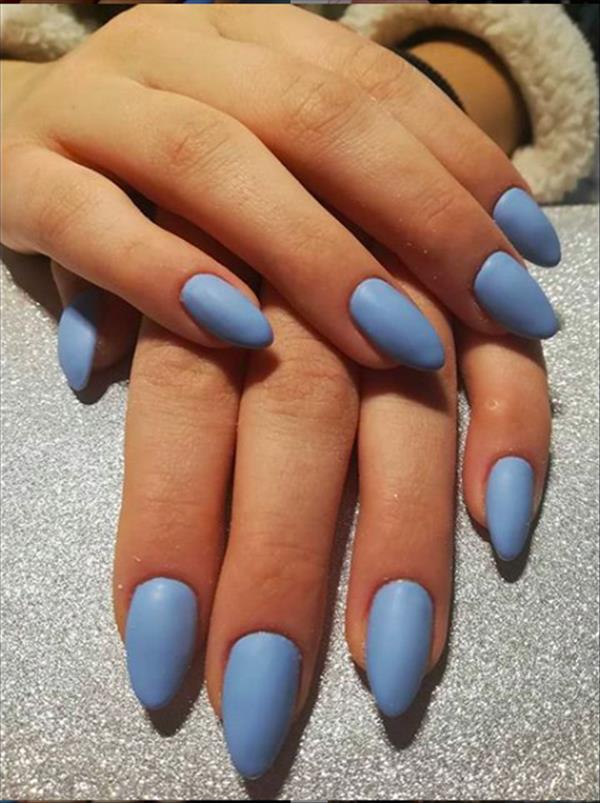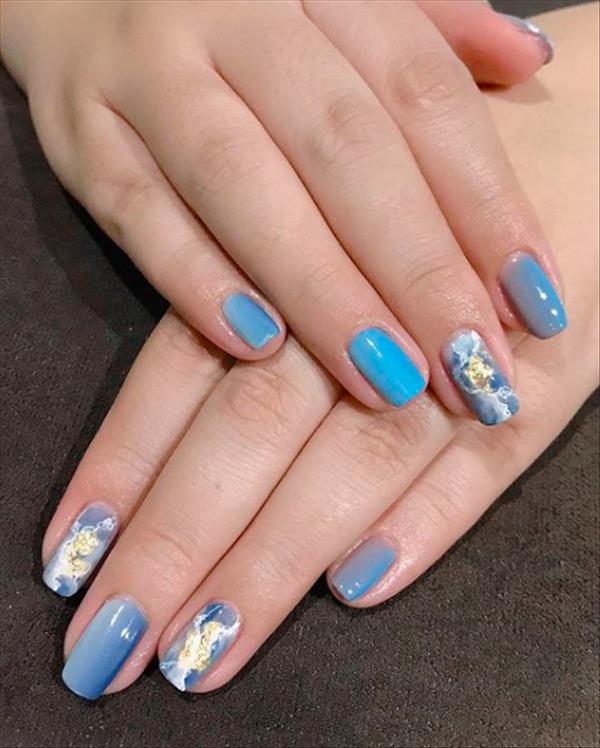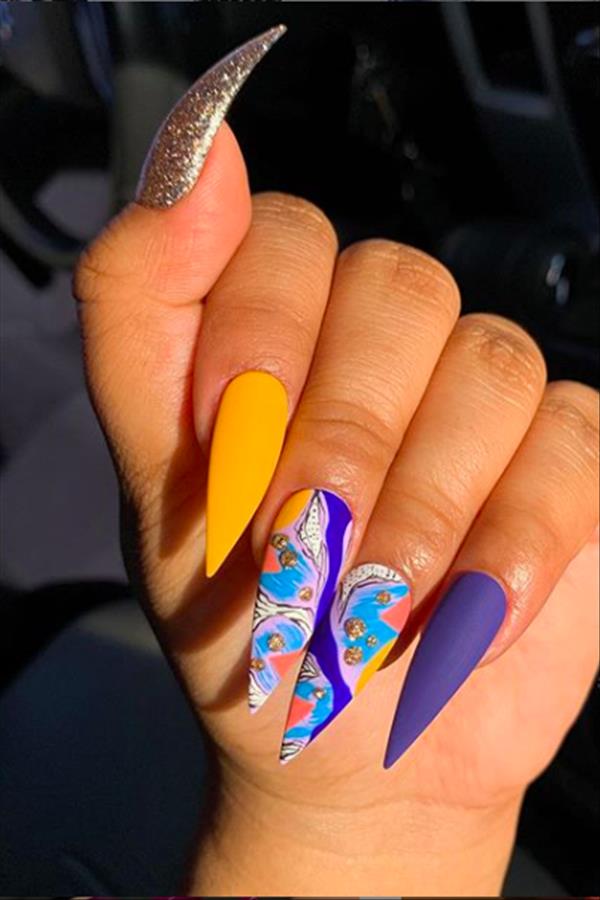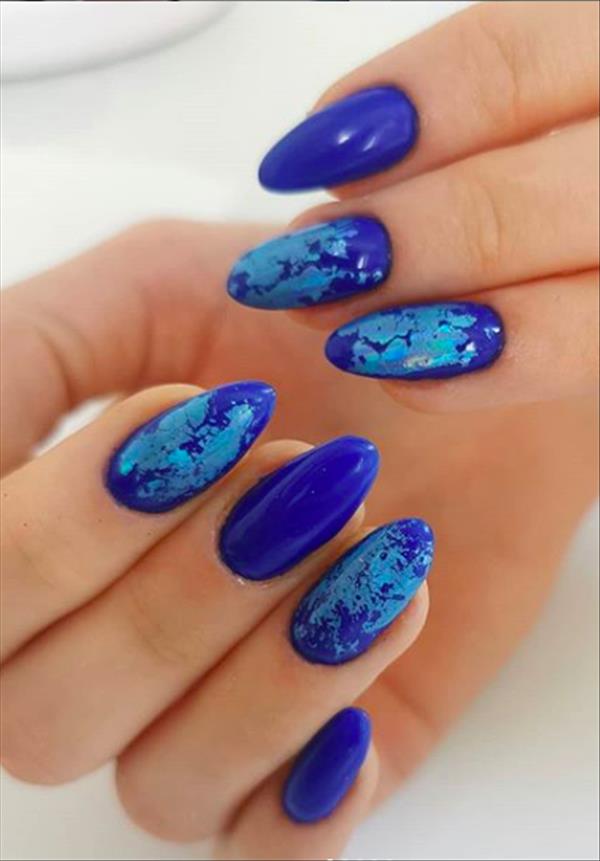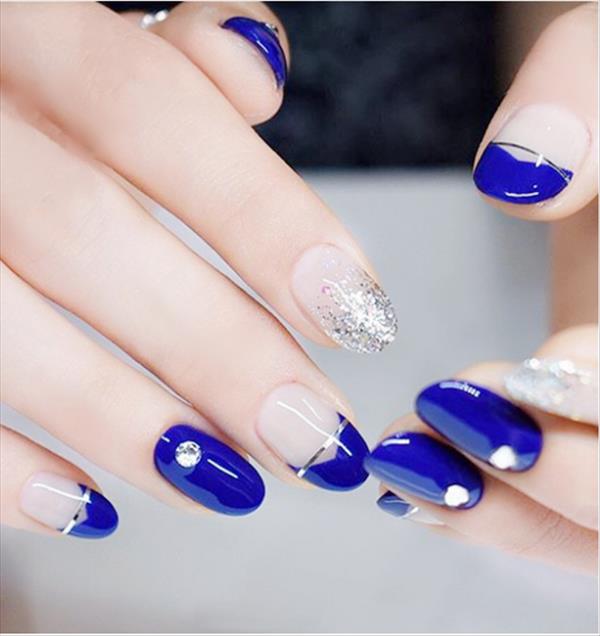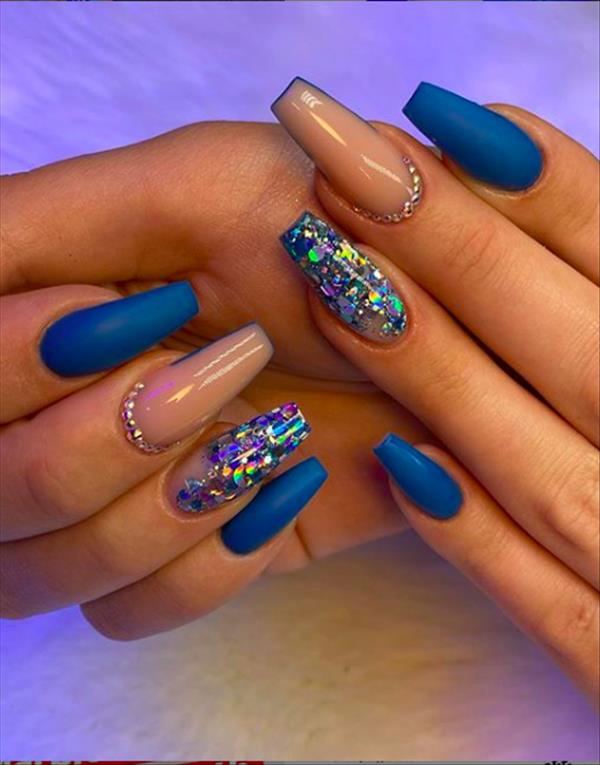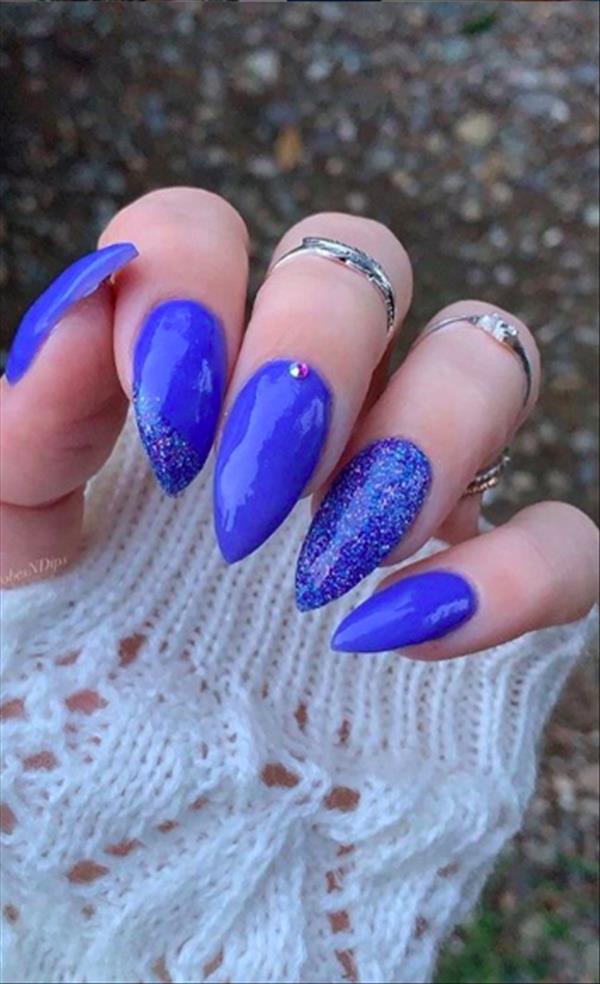 Steps to Make Blue Nails
Blue nails are the symbol of tenderness. Let's take a look at how to make this kind of tenderness nails. First, prepare the required nail glues and tool. Then trim the nails and polish the surface of the nail. And brush the primer and light for 60 seconds. Second, apply the middle finger and little thumb with the blue nail oil with silver sequins. And light the light for 60 seconds. In order to make the color saturated, apply it again.
Third, apply different blue nail polish on transparent plastic paper. That must be with the size of nails. Wit until the nail polish on the plastic paper dries through. Then cut the painted plastic paper into small triangles. Fourth, apply white nail polish on the ring finger. And stick the cut triangle on the ring finger after the nail polish is half dry. Apply a layer of transparent top oil. That must after the white nail polish is completely dry, and light the light for 60 seconds. At last, apply dark blue nail polish to other fingers, and finally seal the surface of the nail for 60 seconds.